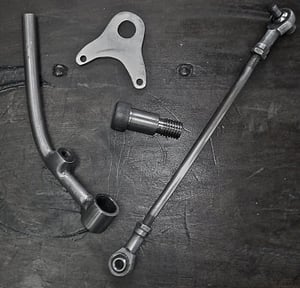 $

200.00 - On Sale
One of a kind, hand made Jockey Shift setup for evo Sportsters.. Smooth action and unbreakable durability... Ride hard, slam gears, and get down the road in style. Easy installation, and everything is included, shifter lever, mount bracket, linkage, and all hardware.
See more pics back on the blog. just click "back to site" in the top left corner
(reworking these a bit right now, they will be back soon)
email me if you need anything
hefewolf@gmail.com
also i really prefer doing one off pieces, i can really reconfigure this shifter setup to whatever you could want.
Foot clutches available also as one off custom items
email me for info
Eli Wolf